The great thing about being a museum professional is that you never know when and where the skills you learn along your path will be needed in the future. This is a story about it.
A few months ago I discussed with Robert M. Kelly an article he was writing for a journal. Having dealt with museum texts a number of times before I was able to give some hints. I guess all of you who ever wrote or edited exhibitions and catalog texts know what it means to use the surgeon's knife on filler words or the butcher's ax on whole passages to make a text fit into the given word count…
When we were through, Bob asked me to help him on a book he was writing. A book about wallpaper. The early years of wallpaper.
I said: "Bob, I'm a collection manager, I don't know anything about wallpaper and I'm no native speaker."
Bob said: "Yeah, exactly what I'm looking for."
Sometimes I'm glad that most conversations nowadays are via email, because if he had asked if it's okay to ship the Mona Lisa via [insert favorite parcel service] I would have given him exactly the same facial expression.
Anyway, now, exactly 9 months after I started to read the first sentences of the manuscript the book is out and I'm proud as hell!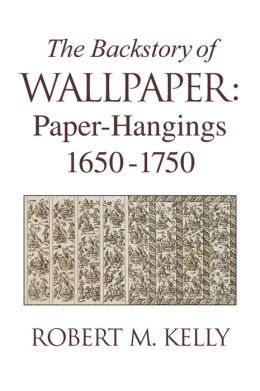 Why should I read a book about wallpaper, you ask?
Well, there are many good reasons: wallpaper is on the walls of historic houses and we have to care about it just the same as we care about the furniture, the carpets and the other artifacts. We might have wallpaper in our collections, as brand-new rolls that were never delivered and installed, as fragments being rescued from destroyed houses, as wallpaper pieces inventoried by mistake as lining paper (or vice versa) or as study collection for design questions. As always: the more you know about something, the easier it is to care for it.
But this is not a book about conservation or registration issues. It tells the social and economic story of how wallpaper was made in the early days, how it was sold and how it became popular on the walls in Europe and the North American colonies. And it's a book about people.
We meet people who made, sold, bought and installed wallpaper. We meet Jean-Michel Papillon , who did the wonderfully detailed descriptions and drawings of the craft intended for Diderot's Encyclopédie (some to be seen in the book) – but was forced into this trade by his father and turned his back on it as soon as he could. Thomas Coleman who began selling wallpaper in London and later moved over to the American colonies to do the same. Catharine Mac Cormick who was one of the few installers we know by name, representing the countless female and male paperhangers who didn't leave a mark in the records.
Following the traces of people makes the book easy and fun to read. While it is a book about the history and technology of wallpaper, it is not a dry one. It's a journey into the past.
Now, as I continue my journey on the path of a collection manager and museum professional, I am very curious when and where the skill of having helped a book about wallpaper to see the light of day will be needed in another project. In the meanwhile, I will have a picture of a wallpaper as a wallpaper on my screen….
Angela
The book is available in every bookstore:
Robert M. Kelly: The Backstory of Wallpaper. Paper-Hangings 1650-1750. Published by Wallpaperscholar.com, hardcover, 190 pages.
ISBN-10: 0985656107
ISBN-13: 978-0985656102
You can take a look inside here:
http://www.amazon.co.uk/The-Backstory-Wallpaper-Paper-Hangings-1650-1750/dp/0985656107/ref=sr_1_1?ie=UTF8&qid=1378396917&sr=8-1&keywords=Backstory+of+wallpaper
This post is also available in Dutch, translated by Jiska Verbouw, in Zulu/Ndebele, translated by Phineas Chauke and in French, translated by Marine Martineau.